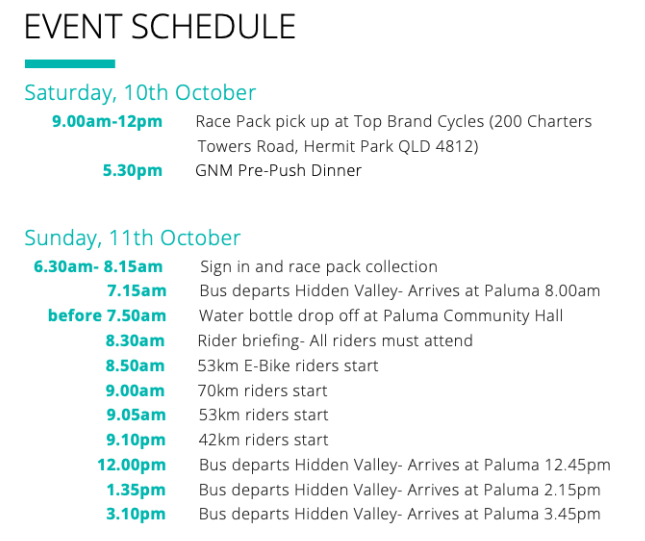 Schedule Details
Saturday 10th October - Day Before
Rider Pack Pickup & Registration: 9.00AM to 12PM
All of you who live in Townsville or are in town on Saturday you can help in a big way by picking up your rider pack including race plate and your event t-shirt at Top Brand Cycles.
Top Brand Cycles
200 Charters Towers Road
Hermit Park QLD 4812
T: 07 4725 5083
This will greatly reduce the volunteer workload on Sunday morning and will avoid the last minute rush at Paluma.
GNM Pre-Push Dinner: 5.30pm onwards a the Paluma Community Hall. Tickets must be booked online before Thursday, 9th October.
Sunday 11th October - Race Day
CAR PARKING
Paluma
• Parking will commence at the Hidden Valley side of Paluma. Drive through past the Paluma Community Hall and you will be directed by the parking marshals.
• Please DO NOT park in driveways. We have a lot of cars to fit into Paluma so please follow the directions of the marshals.
Hidden Valley
• Parking marshals will be at the external carpark at Hidden Valley Cabins for those doing the early car shuffle, bus transfer of supporters traveling to Hidden Valley after the start at Paluma.
CAR SHUFFLE
The road into Paluma will be closed by the police at the dam turn off at 8.45 AM until 9.30 AM which is after the last rider leaves Paluma.
IF YOU DO NOT GET BACK TO PALUMA FROM HIDDEN VALLEY BEFORE THE CLOSURE YOU WILL NOT BE ABLE TO START THE RACE.
There will be a lot of traffic on the road between Paluma and Hidden Valley so make sure you allow plenty of time to get back to the start. Times given on the website are realistic.
SIGN IN
All participants MUST Sign In prior to the race.
Sign In will occur from 6.30AM and 8:15AM.
Riders who have already picked up their Race Pack on Saturday are still required to sign in at the sign in desk outside. The riders who are picking up their race pack on Sunday morning need to see the event crew inside the Community Hall in order to sign in.
Any participant who does not sign in will not be eligible for official placings in any category.
This is also essential to ensure all riders are accounted for at the end of the race.
EVENT DAY REGO PACK PICKUP
For those unable to pick up Rego Packs from Top Brand Cycles on Saturday, they can be collected the Registration Rotunda at Paluma Village between 6.30AM and 8:15AM.
WATER BOTTLE DROP OFF
For those participants wanting to have extra water bottles at Check Point 4, you will need to have your water bottles to the Paluma Community Hall prior to 7.50 AM.
Place your water bottle in one of the plastic tubs provided.
You can collect your water bottle from the same location (Paluma) after 4.00PM. Water bottles not collected will be taken to Top Brand Cycles for collection later in the week.
Distance to Check Point 4:
• For Competition Riders – Approx. 40 km along the course
• For Intermediate Riders – Approx. 40 km along the course
• For Recreation Riders – Approx. 30 km along the course
RIDER BRIEFING
Rider Briefing 8:30AM at on the Paluma Village Green (grassed area).
Riders are to assemble on the Village Green (Grass Area)
All riders must attend and listen.
THE START
The Start Line: Corner of Mount Spec Road and Smith Crescent.
Participants are to line up along Smith Crescent in their respective category.
Green - e-Bike Riders will be first
Yellow - Competition Rider are second
Blue - Intermediate Riders third
Red - Recreational will be fourth / at the back
Riders must self-seed. Fitter and more skilled riders in the front, lessor skilled/experienced riders at the back
Start Times:
8.50am - 53km E-Bike Intermediate Class
9.00am - 70km Competition Class
9.05am - 53km Intermediate Class
9.10am - 42km Recreational Class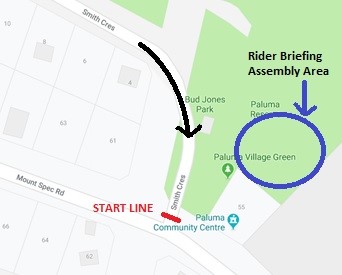 TIMING & RESULTS
The Timing and Results services will be supplied by Outer Limits
You MUST sign in and have your Race Bib scanned prior to the start of the race. No scan makes you ineligible for placement and prizes.
At the start of the race, you MUST ride through the race start gates. Do not go around the gates/arch.
At the finish line, please ensure you ride through the finish gates to officially finish the race and have your time recorded.
*Cut Off Time* - There is a cut off time that applies for the Competition, Intermediate and e-Bike Class at Check Point 4. Any riders not passed Check Point 4 in 2hrs and 45 minutes will be required to move onto the 42km course and will be listed as DNF.
COMPLIMENTARY SAUSAGE SIZZLE
A complimentary sausage sandwich and soft drink will be available in Hidden Valley
MEDAL PRESENTATION
The winner awards will be held online this year due to COVID regulations
FINISH PHOTO
Professional photographers will be at the event and photos will be made available 24-48 hours after the event